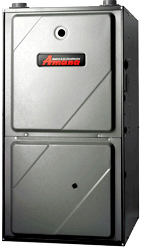 Tropical Heating & Cooling understands and answers the demands of extreme winter weather in Western New York.  While comfort on those subzero nights is a priority, we don't overlook the importance of quiet operation, convenient system management, and exceptional energy efficiency.
Professional Heating System Installation Services
At Tropical Heating & Cooling, we bring you the technological advancements that trim running costs, optimize your energy dollar, and greatly simplify everyday life.  And through organized project management, we complete the installation process without damage to your property, major inconvenience, or needless delays.  We deliver a rewarding start-to-finish experience.
With dependable heating installations from Tropical Heating & Cooling, you'll be warm all winter long!
Drawing from 27 years of experience, Tropical Heating & Cooling works primarily with Amana brand heating equipment.  We prefer to recommend and install a heating system we trust to deliver exceptional comfort, reliability, and longevity.  However, we customize our services to achieve your goals, are qualified in the design and implementation of everything from gas furnaces and steam boilers to electric heat pumps, and ensure the ideal system for your needs.  Contact Tropical Heating & Cooling at (716) 870-0753 for a job completed quickly, properly, and to your highest satisfaction.  We provide dedicated service across Niagara Falls, NY, Grand Island, NY, Lockport, NY, North Tonawanda, NY, Tonawanda, NY, Amherst, NY, Williamsville, NY, West Seneca, NY, Lewiston, NY, Pendleton, NY, Wheatfield, NY.
Tropical Heating & Cooling
November 13, 2017
2019/08/19